Q2 2019 Edition Of Venture Investments In Space Industry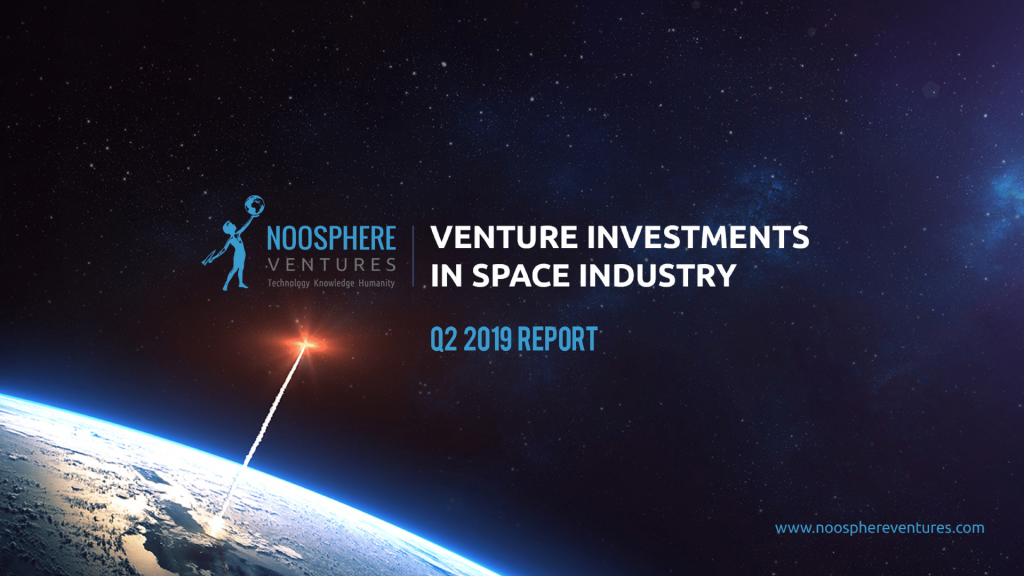 Jul 18, 2019
Welcome to the Q2 2019 edition of Venture Investments in Space Industry.
The recent report, Venture investing in space industry. Q1 2019, showed a sustained upward trend in interest and cashflow for industry innovation. The second quarter demonstrates that 2019 will be the year of commercial space travel, as strong private-public partnerships and new launch companies will be refined. Let's look at a detailed report on venture investment in the space industry, prepared by Noosphere Ventures.
Download Venture investments in space industry. Q2 2019 full Report
According to public figures collected by Noosphere Ventures, 26 rounds were closed in Q2 2019, with a total investment of US$640M. Nearly 60 funds participated in the funding. Most of the closed contracts were early-stage VC and Angel/seed funding.
Half of the companies which received investment are in the US and Asia. Compare to Q1 2019 numbers, the Asian market share grew 16%.
Among the top 3 biggest deals of Q2 2019 are:
US$536M investments in SpaceX capital projects – fully reusable Super Heavy boosters with Starship upper stage, and the Starlink broadband megaconstellation of up to 12 000 satellites;
US$14.5M investment in Chengdu GuoXing Aerospace Technology (also known as ADA Space), which builds satellites powered by AI and will use the funds for R&D and to expand its technology, satellites and data services; and
US$14.5M investment in Ruixinfeng Technology, specializing in aerospace and defence electronics, unmanned platform equipment, wireless signal testing, and measurement solutions.
The second group of largest funding deals sees Capella Space (US$13.7M), Aerospacelab (US$12.4M), Gamaya (US$12M), Hummingbird Technologies (US$9M) and Integra Devices ($13.7M).
Q2 report highlights Noosphere Ventures (investments in Firefly Aerospace), Space Angels Network (investments in SpaceX and Planet) and Seraphim Capital (investments in Spire and Iceye) as top funds with successful space-tech oriented portfolio.
About Noosphere Ventures
Headquartered in Silicon Valley with roots in Ukraine, Noosphere boasts a Texas-based satellite manufacturing company and an R&D facility in Dnipro, Ukraine fully equipped with 3D printers for testing satellite components.
Max Polyakov is the founder and advisor of a number of startups which have grown into international businesses. These include companies such as HitDymanics Ltd., IT-Ukraine, Cupid Plc. and Maxymiser Ltd.
Prior to beginning his professional career, Max Polyakov received a Ph.D. in International Economics in 2013 for scientific research on the future of information technologies in the worldwide economy.
"We believe long term that consolidation and merger and acquisition activity will happen in the space sector. The industry will shift toward vertical integration where you control the full range from the launch, to satellite, data analytics, communications and the ground stations. We should all remember the end dollar we collect from the ground — the customer who pays for the imagery, the analytics, or communications." – said Max Polyakov, managing partner of Noosphere Ventures, in an interview with SpaceNews.
Furthermore, Noosphere Ventures manages a global portfolio of companies with offices in 16 countries and 5,500 employees. Noosphere Ventures has invested over US$ 100 million in the small-satellite launch vehicle startup Firefly Aerospace, as well as investing in Earth Observation Data Analytics platform (EOS DA) and Space Electric Thruster Systems (SETS).
If you have a related business and are looking for venture capital funding, submit your full business plan for review by Noosphere Ventures experts – [email protected]. For questions & feedback about the report write to [email protected].
Liftoff!
Follow our Facebook page to know more about space investment