Q4 2019 Edition Of Venture Investments In Space Market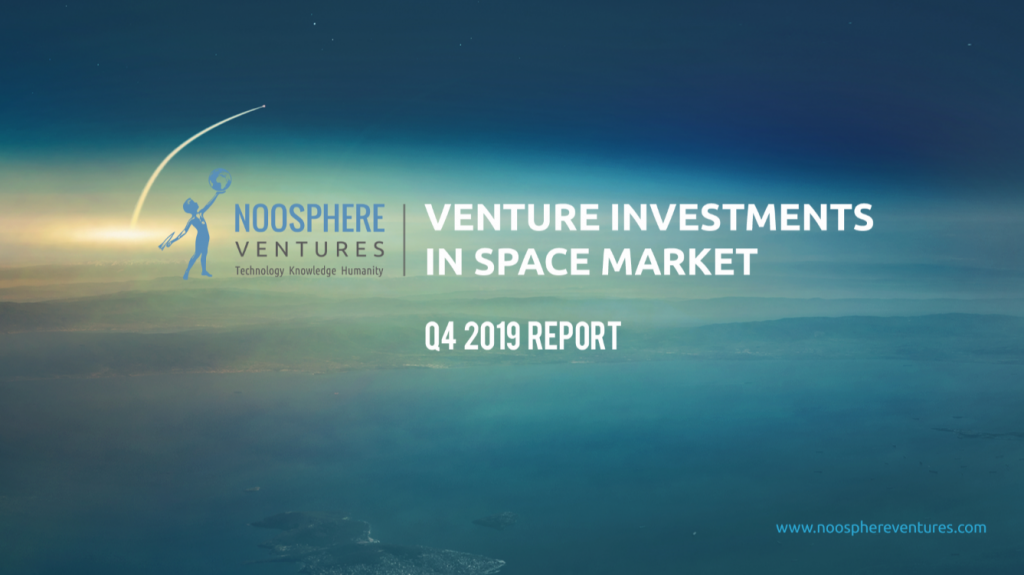 Jan 15, 2020
Welcome to the Q4 2019 edition of Venture Investments in Space Market.
Let's take a look at a detailed report on venture investment in the space market, prepared by Noosphere Ventures. 
Download Venture investments in the space market. Q4 2019 full Report
According to public figures collected by Noosphere Ventures, 38 rounds were closed in Q4 2019, with a total investment of US$696M. Nearly 94 funds participated in the funding. Most of the closed deals were later-stage VC, Debt and early-stage VC as well.
Almost half of the companies (47%) which received investment are in the US. Compare to Q3 2019 numbers, the European market share grew by 3%.
Among the top 3 biggest deals of Q4 2019 are:
US$160M (debt) investment in Kacific – credit facilities secure long-term financing that enables Kacific to repay short-term facilities used to fund the construction, as well as associated infrastructure and launch costs of Kacific1 payload, which is commencing operation in early 2020;

US$140M investment in Relativity, which will use the funds to advance its 3D-printing technology and develop its test site (Jackson, Mississippi), and rocket launch facility (Cape Canaveral, Florida);

US$71M investment in Landscape – the new finding will be mainly used for the development of a new launch vehicle, the two-stage Zhuque-2 (Vermillion Bird-2) medium-lift one. The funding will also go towards the verification of reusable rocket technology.
The second group of largest funding deals sees Orbital Insight (US$50M), Satellogic (US$50M), BlackSky (US$50M) and Capella Space (US$29.4M).
Q4 report highlights Noosphere Ventures (investments in Firefly Aerospace), Space Angels Network (investments in SpaceX and Planet) and Seraphim Capital (investments in Spire and Iceye) as top funds with successful space-tech oriented portfolio.
About Noosphere Ventures
This is a team of professionals who believe in New Space and are building a streamlined space business ecosystem. We invest in world-class teams, technologies and business systems that can change the world.
Managing partner of Noosphere Ventures Max Polyakov is the founder and advisor of a number of startups that have grown into international businesses. These include companies such as HitDynamics Ltd, AlarIT Ukraine, Cupid Plc, and Maxymiser Ltd.
Noosphere Ventures manages a global portfolio of companies with offices in 16 countries and 5,500 employees. Noosphere Ventures has invested over US$100M in the small-satellite launch vehicle startup Firefly Aerospace and is investing in the Earth Observation Data Analytics platform (EOS DA), Space Electric Thruster Systems (SETS) and other projects. 
If you have a relevant business that is looking for venture capital funding, submit your business plan for review [email protected].
Our professional team has excellent investment and technical background, and our expertise helps to assess the prospects of projects and pursue it for many years to come.
For questions & feedback about the report — [email protected].

Liftoff!
Follow our Facebook page to know more about space investment