Space Foundation Announces Winners of the 11th Annual International Student Art Contest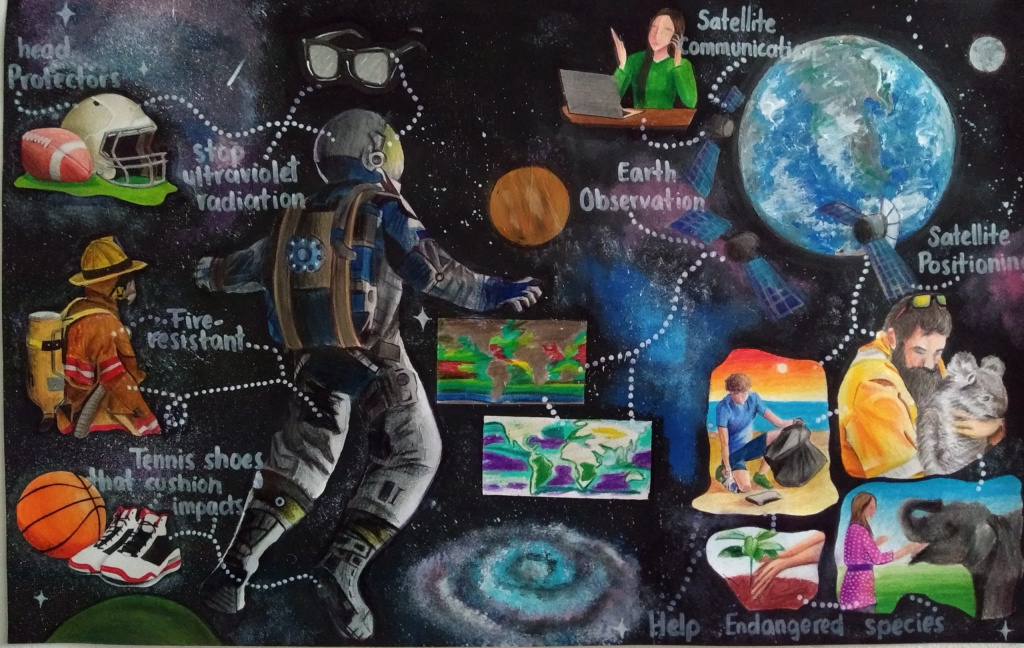 Jun 10, 2021
Space Foundation, a nonprofit advocate organization founded in 1983 for the global space ecosystem, today announced the winners of its 11th Annual Space Foundation International Student Art Contest, cosponsored by Noosphere Venture Partners LP. Space Foundation invited public, private and homeschool children ages 3-18 from around the world to submit original artwork depicting this year's theme, "How Space Technology Helps Improve Life on Earth." The 2021 contest generated more than 4,500 entries from 36 U.S. states and 88 countries, yielding 25 winners with one entry chosen for the Space Achievement Award.
In congratulating this year's contest winners, Shelli Brunswick, Space Foundation's COO and executive leader of the organization's Center for Innovation and Education, said, "Spanning more than a decade, the International Student Art Contest has garnered more than 42,000 submissions by asking children around the globe to look up to the stars for their creative inspiration. Congratulations to this year's winners, and thank you to all who submitted artwork to raise awareness about this very important theme, spotlighting the benefits that the space ecosystem provides us all in our everyday lives."
Dr. Max Polyakov, managing partner of cosponsor Noosphere Ventures, said, "This year's theme for the International Student Art Contest, How Space Technology Improves Life on Earth, is something close to my heart, and I've invested my passion, energy and funds into it. I'm excited to see how the winners of the contest — the younger generations that will eventually lead space development in their own time — realize the concept through their own creative artwork."
The winners will receive an astronaut autograph, a certificate, a ribbon and an art kit. The winning entries will be on display at Space Foundation's 36th Space Symposium, to be held Aug. 23-26, 2021, at The Broadmoor in Colorado Springs. After Space Symposium, the winning art will be displayed at Space Foundation Discovery Center and headquarters in Colorado Springs. Winning artwork submitted for this year's contest can be seen on the International Student Art Contest website gallery at https://art.spacefoundation.org/winners-gallery/2021-winners-gallery/, and all submitted artwork can be viewed at http://art.spacefoundation.org.
Liftoff!
Follow our Facebook page to know more about space investment