D-Orbit charts ambitious course for space logistics business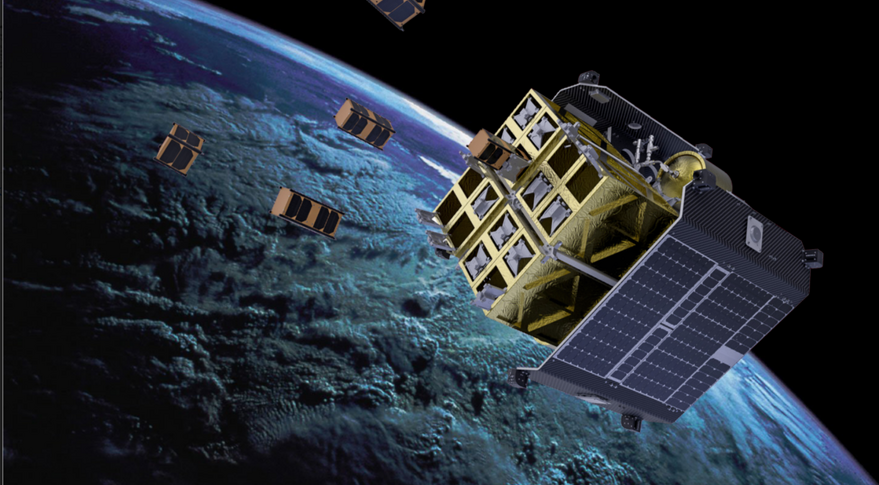 Jun 20, 2022
Space logistics company D-Orbit announced a $2 million contract June 9 with the European Space Agency to upgrade production of its ION Satellite Carrier.
It was the latest win for the Italian firm with ambitious plans to offer a wide range of satellite services from active debris removal to space-based cloud computing.
Under the contract, ESA will fund D-Orbit's campaign to improve the performance and reduce the cost of ION, the vehicle that transports cubesats and microsatellites from the point where a large rocket drops them off to their desired orbital destinations.
The growing popularity of rideshare flights like SpaceX Transporter missions is expected to spur demand for last-mile delivery. Euroconsult's Space Logistics Markets report released in May forecasts 120 orbital transfer vehicles in operation by 2031.
About a dozen companies around the world are designing, developing and testing orbital transfer vehicles.
D-Orbit first demonstrated its last-mile delivery service in 2020. Over six flights, D-Orbit has transported more than 80 payloads in orbit, including 60 satellites deployed from ION and additional payloads hosted onboard.
Spaceflight Inc.'s first Sherpa LTE, launched in June 2021, also used an electric propulsion system to execute maneuvers and change altitudes working under a customer's direction. The Seattle company declined to name the customer or provide additional details.
D-Orbit also maintains a line of products and services for other space companies.
Beyond Gravity, for example, formerly called Ruag Space, awarded D-Orbit a contract in April to supply carbon fiber-reinforced polymer tools and metallic structural components for ESA's Space Rider. Thales Alenia Space is the prime contractor for Space Rider, an uncrewed laboratory designed to house technology demonstrations and science experiments in low-Earth orbit, before returning payloads to Earth. The Space Rider vehicle will then be refurbished, refueled and loaded for another flight.
The Space Rider mission "is perfectly in line with our vision to enable profitable business and human expansion in a sustainable space," Renato Panesi, D-Orbit founder and chief commercial officer, told SpaceNews.
Over the long term, D-Orbit seeks to dominate the space logistics market.
"The idea is to take care of the customer's journey from mission analysis to launch to decommissioning," Panesi said. "It's about having your assets correctly positioned when you want."
D-Orbit intends to offer satellite services including inspection, refueling and small repairs.
"Maybe we can consider active debris removal as part of the service, today in low-Earth orbit, later on in geostationary orbit," Panesi said. "In the far future, we do for see potential markets for recycling and in-orbit manufacturing."
In the meantime, D-Orbit is laying the groundwork for a space-based cloud computing business.
"If we manage to have an ION equipped with its own cloud computing suite and intersatellite links, we can have a small constellation of nodes processing information," Panesi said.
D-Orbit worked with Sweden's Unibap to demonstrate a radiation-tolerant computing module onboard ION in 2021.
"One of the things we're going to test later this year or the beginning of next year will be the intersatellite links, both optical and radio frequencies," Panesi said.
On the financial side, D-Orbit is preparing to merge with Breeze Holdings Acquisition Corp., a special purpose acquisition company, or SPAC. The merger is expected to conclude in the third quarter of this year.
While SPACs are not as popular in the space sector as they were in 2021, Panesi remains confident the deal will benefit D-Orbit.
"On one side, we are securing capital," Panesi said. "On the other side, we have a valuable partner to help us enter, one step at a time, the big U.S. market."
D-Orbit employs about 200 people, with the majority based near the firm's Como, Italy headquarters. In addition, D-Orbit has offices in Portugal, the United Kingdom and Falls Church, Virginia.
Liftoff!
Follow our Facebook page to know more about space investment