Q2 2021 Edition Of Venture Investments In the Space Industry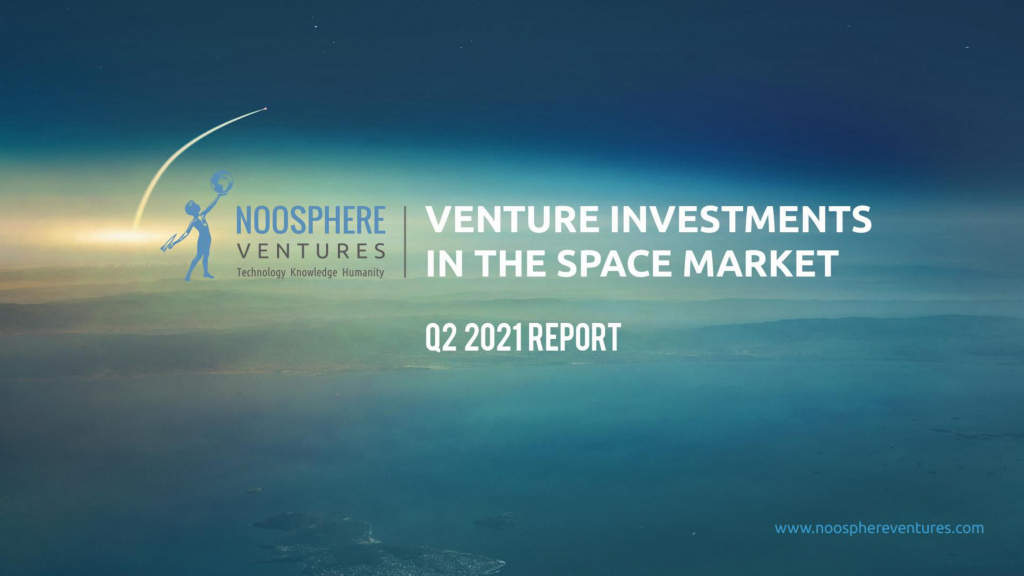 Aug 16, 2021
Welcome to the Q2 2021 edition of Venture Investments in the Space Industry.
Let's take a look at a detailed report on venture investments in the space market, prepared by Noosphere Ventures.
Download Venture Investments In the Space Market. Q2 2021 Report
According to public data collected by Noosphere Ventures, 78 rounds of financing were closed in Q2 2021, with a total investment of US$2.2B.
Almost half of the companies which received investment are in the US, 43%. The Asian market share raised to 18%, Australia to 7%.
The top 5 biggest deals of Q2 2021 were:
$1.2B, SpaceX. SpaceX filed an amendment to its previous funding of $850M. The company continues to develop its ambitious programs, an internet satellite constellation Starlink, and a massive rocket Starship.
$650M, Relativity. Following the announcement of its fully reusable, entirely 3D printed rocket, Terran R, the company intends to use the funding to scale this program and long-term infrastructure development.
$250M, Astranis. The funds will be used to expand the production of geostationary communications microsatellites MicroGEO, built to improve access to internet connectivity.
$100M, Climavision. The company is working on weather services and an intelligence platform.
$75M, Firefly Aerospace. The funds will be used to support design work on a medium-class launch vehicle, called Beta leading toward a conceptual design review.
As for M&A deals, among the largest was a $1.1B purchase of satellite operator ORBCOMM by GI Partners. The investment will support the company's strong momentum in the industrial IoT and help to accelerate growth, execute on its long-term strategic plan and global market expansion.
Dr. Max Polyakov purchase a majority stake in Dragonfly Aerospace, an imaging satellite manufacturing company. This purchase cements Dragonfly Aerospace's status as a critical component of the vertically integrated space ecosystem, being built by Dr. Polyakov and Noosphere Ventures that includes Firefly, the competitively-priced space launch provider, EOS Data Analytics (EOSDA), a satellite data and analytics company with its own radar and optical satellite constellations, and SETS, a space electric thruster systems firm.
Q2 report highlights Noosphere Ventures (investments in Firefly Aerospace), Space Angels Network (investments in SpaceX and Planet), Seraphim (investments in Spire and Iceye), and Primo Space (investments in Leaf Space) as top funds with successful space-tech oriented portfolios.
About Noosphere Venture Partners
Noosphere Venture Partners LP is a space-focused international asset management firm headquartered in Menlo Park, California, USA. It invests in projects from all over the world and is mainly focused on the New Space industry.
The mission of Noosphere Venture Partners LP is to develop, grow and accelerate industry-leading companies on a global scale.
Max Polyakov, managing partner of Noosphere Venture Partners LP, is the founder and advisor of a number of startups that have grown into international businesses. These include companies such as HitDynamics Ltd, Cupid Plc, Maxymiser Ltd, Murka, and Firefly Aerospace.
Noosphere Venture Partners (NVP) manages a global portfolio of companies with offices all over the world and 2,000+ specialists. NVP has invested in different projects and companies, including Firefly Aerospace, a small-satellite launch vehicle startup. The fund is also investing in the Earth Observation System Data Analytics platform (EOSDA), Space Electric Thruster Systems (SETS) and D-Orbit.
If you have a relevant business that is looking for venture capital funding, submit your business plan for review: [email protected].
Our professional team has an excellent investment and technical background, and our expertise helps to assess the prospects of projects and then pursue them for many years to come. For questions & feedback about the report: [email protected].
Liftoff!
Follow our Facebook page to know more about space investment